Engineering / Infrastructure Construction Projects
Click on the tabs below to read more about the services we offer for Architects, Engineers, Builders and Contractors.
Detail Surveys
Our focus is on providing information critical for efficient and cost effective building and infrastructure design on your development property.
In response to the modern trend of increasing densities our procedures emphasise increased attention to the accurate location of existing:
Features
Services
Topography
We combine this survey information with in depth advice on both the physical and regulatory constraints affecting the property in order to achieve a successful design for the developer.
By utilising the latest field data acquisition and processing software we are able to provide both cost effective and on time solutions that meet our client's expectations.
We take into account the level of detail required based on the site characteristics and tailor our service to the provide the optimal result for your project.
Our Detail Surveys will typically show the following features:
Existing infrastructure
Physical boundary features
Site Dimensions
Access and road details
Visible services and details of pipes, invert levels etc
(Available as-constructed information on Power, Water, Telecomms, Sewer and Stormwater)'
Contours and height information on AHD datum
(Significant vegetation, including information on tree height and size)
Setbacks to adjacent buildings, where possible
Easements and encumbrances, where applicable
(We supply data in digital formats eg (PDF, DWG, DXF) of as per your requirements)
Cadastral Boundary Identification Surveys
Determining the location of the legal position of the cadastral boundary is fundamental for the design and implementation of any successful land development project.
Our approach is to provide cost efficient, sensible advice regarding boundary locations tailored to your specific project requirements.
Including (where required):
Investigation of encroachments
Replacing missing boundary marks and
The preparation lodgement of Identification Survey plans with Dept of Natural Resources when required in accordance with the requirements of the Land Survey Act 2003.
Boundary locations are a common cause of disputes between neighbours, particularly when it comes to construction close to a dividing boundary. Existing site features such as fences and retaining walls are often not a true representation of the actual boundary position, and should not be relied upon as depicting the property boundary line.  Ensure you know exactly where your boundary is with the completion of an Identification Survey.
It is important to take into consideration the 3 dimensional aspect of encroachments, problems often occur above and below ground level.
Don't risk your next project to the consequences of encroachments, resulting in potential lengthy and costly legal disputes.
Contact us today for advice on the cadastral boundary location of your property.
Commercial Building Setout Surveys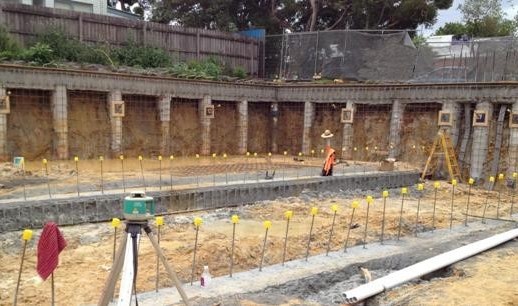 At Survey360 we understand the time critical nature of multi-storey building projects and know that the busy nature of these sites require flexibility and innovation to keep progressing towards a completion target.
We pride ourselves on our commitment to our clients to do everything within our power to attend to service urgent requests from your site in order to keep your project on track.
We combine the latest field based software and technology that allows us to directly access the latest design drawings on site. This technology enables a visual confirmation of the setout points in real time with the added benefit of reduced chance of error due to misinterpretation of dense detail on paper prints.
Our surveyors have more than 30 years experience in setting out multi storey buildings and we know the right questions to ask in order to ensure that what we set out combines the design intent of the various professionals involved in your project.
Monitoring Surveys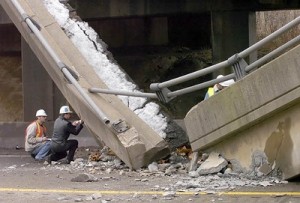 Risk minimisation is a vital component of project management.
Periodic survey monitoring combined with clear concise reports enable your engineer to analyse and detect movement trends well in advance of any dangerous movement.
Our surveyors have extensive experience in setting up control networks on and around building sites in order to monitor and report on detectable movement of the newly installed elements and of the surrounding infrastructure.
Our monitoring procedures allow for timeous procedures to be put in place, to manage and effectively prevent potential risk of injury and damage to both onsite contractors and surrounding properties caused by subsidence and unforeseen structural failures.
As-Constructed Surveys and Certification of Height and Location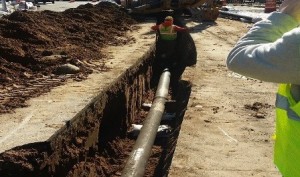 Local Authority approvals contain increasingly onerous as-constructed survey documentation requirements that need to be prepared and lodged prior to the final project sign off.
Our surveyors are experienced in sourcing and preparing the as-constructed information to formats that comply with the individual requirements of the various local councils in SE Qld.
We arrange with your site foreman to access the as-constructed information as soon as practically possible after the feature is installed in order to prevent delays around the completion date and also confirm compliance well before the project completion date.
Network Control Surveys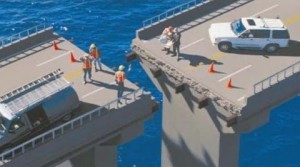 The installation and survey of a control network surrounding the project ensures that your project starts off in the right place and ends up in the right place.
Our experience over the years has reinforced our conviction in the benefits of a well planned and accurate control survey with sufficient redundancy to provide a good level of backup security when control points are inadvertently lost due to site operations.
Our methodology is tailored to meet the accuracy requirements of your project.
Height and Precise Levelling Networks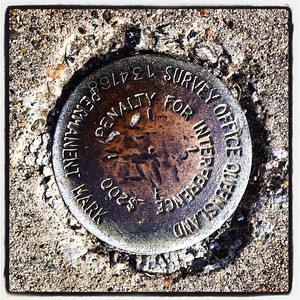 We will assist you set up height datums for your project so as to eliminate any uncertainty between Engineering and Architectural design, Survey setout, Civil construction and final certification.
Mismatching height datums are the most frequent cause of serious sources of error resulting in costly project delays and re-design.
We recommend that our clients use the Australian Height Datum (AHD) as the preferred datum for all our surveys.
It is important that the datum is established at the onset of the project, so that all the members of the design team are working off a common base and that they have confidence that the datum will not be changed as the project progresses.
Engineering Setout Surveys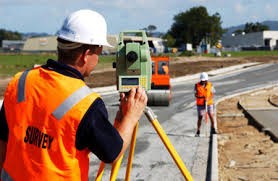 Our surveyors have the experience to determine the most cost efficient methodology required to setout your project.
We understand the time critical nature of these projects and our flexible approach means that we work with you to achieve tight deadlines.
We combine the latest field based software and technology that allows us to directly access your latest design drawings on site.
This technology enables a visual confirmation of the setout points in real time with the added benefit of reduced chance of error due to misinterpretation of dense detail on paper prints.